Product Description

Kraft Paper Coated Aluminum Coil


The kraft paper used on the surface is self-adhesive, which is bonded by glue. This advantage is high production efficiency and timely delivery.

This production cost is low. The daily output can reach 30 tons.

Due to the change of temperature, the surface of kraft paper is prone to produce bubbles, which affects the bonding effect, and the open storage time should not be too long.

Keep kraft paper and aluminum roll together by heating. The advantage of this product is that it has a very high degree of adhesion. It does not gel and does not fall off after 24 hours of immersion test. Weather resistance is very high, kraft paper is not affected by temperature changes. The disadvantage is that the production efficiency is slow and the production cost is too high.

Commonly used materials are 1060,1050, 3003 ,5052 and so on, temper 14,24,16,18 and so on.

output can reach 30 tons.

Aluminum Coil Specifications:

1) Aluminum coil width: 200mm-1,600m

2) Aluminum material thickness: 0.1mm -3.0mm(±0.02mm)

3) Temper: O, H12, H14, H16, H18, H22, H24, H26

4) Inside Diameter: 405mm, 505mm, 150mm, 75mm

5) Aluminum coil weight: ≤4,000kg /coil

6) The aluminum coated coil can be cut into sheets in any size.

Packaging Details

1) Standard seaworthy export packaging. Wooden pallets with plastics protection for the coil,we can also offer wooden case packing.

2) The packaging can be eye to sky or eye to wall based on the customer's requirement.

3) 16-20 MT can be located into 20FCL, 20-24MT can be located into 40FCL.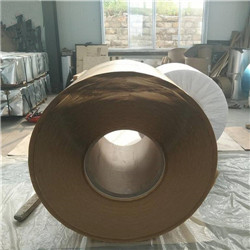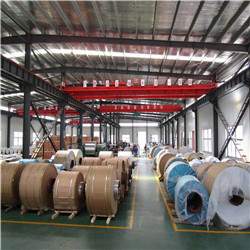 Jinan Xinhai Aluminum Industry Co., Ltd. is an aluminum products manufacturer and with 10 years experience. We use the finest raw material to improve the product quality, guaranteeing the quality of our aluminum products lives to national standards. The products can manufacture include color coated aluminum coil, aluminum embossed sheet, aluminum strip, aluminum circle, aluminum honeycomb panel, etc. And it can be cut to size at customers` need. Jinan Xinhai Aluminum Industry Co., Ltd. will provide you with high quality, competitive price, fast shipment, best after-service.